ABOUT DEG
Direct Entertainment Group is a Montreal based entertainment company that specializes in booking live musical talent. DEG is proud to work with some of the most talented and award-winning musicians and vocalists in the city of Montreal. DEG specializes in customizing acts and shows for private, social, corporate events and venues. From Classical and Jazz to Buddha Bar themes, from trios and quintets to full variety dance show bands, Direct Entertainment Group is the mother company to Montreal's most sought after showband, The Directors.
Weddings
Wedding Ceremonies
Engagement Parties
Corporate Gala Events
Corporate Meetings 
Corporate Cocktail Parties
Product Launches
Golf Course Openings / Closings
Clubs / Bars
Wedding proposals

Dinner / Dancing Events
Bar / Bat Mitzvahs
5@7 Cocktail
Gala Fundraisers
Birthdays
Anniversaries
Restaurants
Concerts
Other Special Occasions
All Direct Entertainment Group acts are produced from the cream of the crop of musical talent from the city of Montreal. Direct Entertainment group was founded by Tony Picciuto and Randi Katz of Montreal's most sought after showband, The Directors.
A FEW WORDS FROM OUR FOUNDERS
"We wanted to offer Montreal musicians a platform for their talent. There needed to be a hub where musicians could connect to the client and client to the musician. There is a bevvy of amazing live talent in the city of Montreal but is not always reachable to the consumer. We felt that we needed to fill the void by creating a direct source for live musical entertainment.
Direct Entertainment Group has quickly become the ambassadors and link to this growing need for live entertainment. As promoters of live musical talent, we are always searching for the newest and freshest acts while offering live entertainment in a way that is classic but unique.
Our mission is to open the door to a new generation of entertainment possibilities for our special events industry but still cater to a client that searches for that nostalgic classic sound. Coming from a performance and event management background, we have had the opportunity to be a part of both sides of the special events industry. From stage performance to behind the scenes production, we have gained the understanding and experience of what it takes to produce a flawless entertainment act and event.
Our large pool of talent offers a wide range of options for any event in all genres and instrument configurations. Our experience in entertainment offers you fresh new entertainment concepts that cater to every generation and age group. When you work with Direct Entertainment Group, you are not only hiring professional music acts, you are working with a team and network of musicians who understand the flawless execution of an event and how to truly engage and deliver a musical experience to your audience.
Whether you are hiring musicians for a wedding ceremony, live music for your corporate event or music for a milestone birthday party, our attention to detail, professionalism and client satisfaction is something that we take very seriously. Business integrity, professional code of business ethics and know - how is what has spawned our reputation. We work honestly and diligently to gain the confidence of our clients and build relationships. It is these virtues that our clients can depend on and what supports and maintains Direct Entertainment Group as the leading source for live music and entertainment acts in Montreal."
THE DIRECTORS SHOWBAND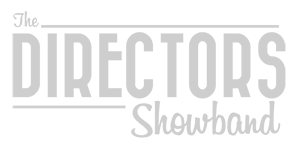 THE DIRECTORS are an award - winning, electrifying, unparalleled and highly entertaining 12-piece show band led by vocalists Tony Picciuto and Randi Katz. Montreal-based showband, THE DIRECTORS have been named an award- winning act in wedding entertainment, live music for corporate events, galas and fundraisers.
THE DIRECTORS have earned a notable reputation in providing high caliber musical excellence and delivering professionalism and dedication to their clients. Accompanied by RnB vocalist Julia Balit, guitar, bass, drums, 2 keyboards, trumpet, 2 saxophones and a disc jockey, THE DIRECTORS come fully equipped with sound and stage lighting.
With supercharged energy, versatility, professionalism, supreme class factor and crowd interaction, THE DIRECTORS are Montreal's most sought after showband.
The Directors appeared in the Golden Globe and 7 Genie award winning, Oscar nominated film, "Barney's Version" starring Paul Giamatti and Dustin Hoffman. They have appeared alongside the cast of The HBO series "The Sopranos" in the 2012 Nickelodeon film, "Nicky Deuce".
For more information about the Directors Showband CLICK HERE.